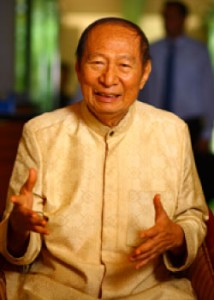 Ir. Ciputra is the founder and the chairman of Ciputra Business Group. Ir. Ciputra graduated from Bandung Institute of Technology in 1960 with a bachelor degree in Architectural Engineering. On 1 March 2008, Ir. Ciputra received an honorary doctorate degree (HC) from University Tarumanagara for his contributions and dedication to Indonesian property development with a visionary entrepreneurship spirit.
Dr. Hc. Ir. Ciputra has established several companies. He is also the founder of PT Pembangunan Jaya established in 1961 and PT Metropolitan Development Tbk established in 1971. Currently, he serves as Commissioner in these two companies separately. In addition, he has been President Commissioner in Ciputra Business Group since 1994. He also has been president in PT Jaya Real Property since 1995. He also serves as President Commissioner in PT Ciputra Development Tbk and PT Ciputra Surya Tbk.
Dr. Ciputra is most well known for innovative large-scale township development in South East Asia. His name is synonymous with property and success. He is a man who has devoted his life to the development of Indonesia and the betterment of life for the community. He has received many awards given by the Indonesian Government as well as international institutes.
Dr. Ciputra is also well known as a philanthropist. For him, being a donator for society is part of being an entrepreneur's life. He has established various social foundations. He established Indonesian Architect Association. He is the founder and the first president of Indonesian Real Estate Association (REI). He was also one of the founders of Asia Pacific Real Estate Foundation (APREF) and served as President once. He is the first Indonesian who was elected Chairman of the International Federation of Real Estate Associations (FIABCI) from 1989-1990.
Dr. Ciputra believes that education is the key to the nation's future. He funds a number of non-profit foundations dedicated to education, art, sport, and disaster relief. He was involved in the establishment of more than 10 educational institutions, from kindergartens to universities in the last 35 years. He serves as Chairman in Don Bosco Foundation, in Jaya Education Foundation, in Tarumanagara Foundation, in Prasetya Mulya Foundation.
In sports, Dr. Ciputra leads Jaya Raya Foundation and manages Jaya Raya Badminton Club that has produced several world champions. The 2008 Olympic Games badminton men's doubles medal winners and Asian Games 2010 men's doubles medal winners all are from Jaya Raya Badminton Club. He was also the initiator and one of the founders of AYUB (Foundation Association for the Nation).
Apart from above these foundations, in 1986, Dr. Ciputra and his family also set up Ciputra Foundation to provide funds for education and other social responsibilities.
Behind the sheen of a successful entrepreneur, Dr. Hc. Ir. Ciputra is currently involved in promoting and spreading the spirit of entrepreneurship across the whole nation. In 2003, he made a significant decision to focus on social services in education. On each occasion, he always instills the importance of entrepreneurship to make the Indonesian nation forward. He aims at inspiring 4 millions new young entrepreneurs in the next 25 years. He urges the government to implement entrepreneurship education in the kindergarden, school and university. On 29 October 2009, in the Indonesia National Summit, President Susilo Bambang Yudhoyono approved this proposal, and required ministers to start applying entrepreneurship education to national education systems as the new national agenda for the education of children and youths.
Dr. Ciputra is a true entrepreneur whose vision, intelligence, belief and hard working have made him no surprise to win two records certificates from the Indonesian Record Museum (MURI). He is the most award-winning entrepreneur in various fields in Indonesia, and he is the only one who gave entrepreneurship training to at least 1231 teachers. He was also named as Entrepreneur of the Year 2007 by Ernst & Young.
In the past, he struggled for getting a work. Now, through his business empire, he has created thousands of job opportunities, and hundreds of thousands families secure their incomes and their future.
In the past, he lived in a poor house. Now he is a famous developer who has been developing more than 20 city-scale housings for more than 100,000 residences.
In the past, he was an orphan. Now, he has set up several foundations for the nation's education, sport, art and other social responsibilities for the betterment of life for people.

"There is nothing more rewarding than changing people's lives for the better…" 
Ciputra Business Group has a long history of excellence in corporate social responsibility. Our founder Dr. Ir. Ciputra is a successful businessman, but he also has a passion for community and humanity dating back to the 1960s.
We see our CSR activities as a long-term investment in the future well-being of society and our company. Our CSR activities are designed to have an enduring impact. We support many different programs and activities. Ciputra Business Group regularly holds blood donation events, in cooperation with Indonesia Red Cross (PMI). The Group takes part in a wide range of charity activities: free medications, fundraising, donations, visiting Orphanages and Rest homes, and so on, but we have chosen to focus on three major areas
Entrepreneurship education
Art
We also encourage our employees to volunteer their time and talents to improve the communities in which they work and live.
Donation to an art organization.
The Company gave donation to Komunitas Salihara (KS), an organization that put forward the introduction of art and culture appreciation. Apart from developing collective awareness in art through general courses, discussions and workshops, KS's main activities are to present stage art performances and to organize visual art exhibitions. The Company expected to hel fulfilling the organization's vision and mission as well as developing Indonesia's art and culture
Green Environment
Looking ahead, the Company will commit to develop projects which are more environment friendly based on the concepts of green property, eco-friendly property as well as green building and construction, which empahsize the importance of serious awarenss among the sustainability of the environment, economic and social culture of the community living in that particular project. The company acted as one of the founders of the establishment of Green Building Council Indonesia, which has applied the concept by creating green environment, designing the buildings and using materials which are more environement friendly, as well as implementing water and waste management. THe Company will keep on learning and implementing this concept in all projects.
Ir. Ciputra Foundation
(Yayasan Ir. Ciputra)
Ir. Ciputra is Chairman of the Ir. Ciputra Foundation which was founded by Ciputra in 1986, as a non-profit organization through which the Ciputra family and their companies provide funds for social activities in areas including Education, Arts, and Sports.
Jaya Raya Foundation
(Yayasan Jaya Raya)
Ciputra founded the Jaya Raya Foundation, and has been Chairman since 1970. Run in co-operation with DKI Jakarta Local Government, the Foundation supports the development of football, athletics and badminton. The Foundation has helped to produce a number a badminton players of international caliber, including Susi Susanti, Mia Audina, Finarsih and Bambang Suprianto.
Yayasan Warisan Nilai Luhur Indonesia
(Indonesia Heritage Foundation)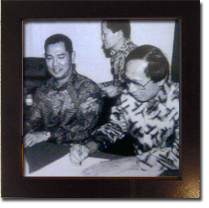 Since education system in Indonesia nowadays emphasizes more on academic aspect and pays less attention on developing students' potential skills, this foundation urges to develop students' character traits that can bring them to success.
The programs are implemented into all kindergarten and elementary classrooms. The schools are located in Cisalak, Cimanggis and Bogor.
Prasetiya Mulya Foundation
(Yayasan Prasetiya Mulya)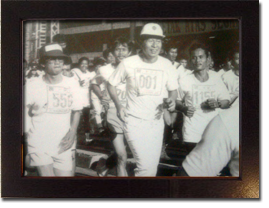 Ir. Ciputra is the Chairman of the organizing committee of the Yayasan Prasetiya Mulya Foundation which was founded in 1980 with the aim to assists the development of post-graduate students, both through the facilities of the Prasetiya Mulya Management Institute, and through a fellowship programme aimed at student whose abilities are greater than their economic resources. Every year, the Foundation helps 120 post-graduate students, as well as providing management training and financial capital for 1,000 small business entrepreneurs and co-operative members, through "Program 2000".
Tarumanagara Foundation
(Yayasan Tarumanagara)
Founded in 1959 by Drs. Kwee Hwat Djien, and named after the sixth century kingdom in West Java, the Tarumanagara Foundation aims to assist Tertiary education, and is responsible for the founding and development of the University of Tarumanagara. Ciputra has been involved with the Foundation since 1974, and has been Chairman since 1979. Tarumanagara University currently has 17,000 students, with 2,200 graduating each year.
Don Bosco Foundation
(Yayasan Don Bosco)
Ir. Ciputra is the honorary Chairman of the Don Bosco Manado in Jakarta, the Don Bosco Foundation recognizes the importance of good schooling as a basis for sound adult development, and helps future graduates through the creation of facilities for Kindergarten, Elementary, Secondary and Senior High School Education.
perative members, through "Program 2000".
Jaya Education Foundation
(Yayasan Pendidikan Jaya)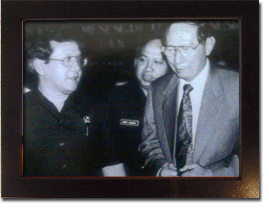 Ir. Ciputra is the Chairman of the Jaya Global School, an international school for Indonesian children, which provides bi-lingual education (English and Indonesian) from Kindergarten through to Senior High. The aim is to produce students who are fluent in both languages, and thus well equipped to succeed in an increasingly global career environment. In addition, the Foundation operates Pembangunan Jaya Kindergarten through to Junior High, as well as providing Parent Effectiveness Training for its staff and their spouses. More than 6000 staff currently take advantage of this training, as do other organizations and public councils.
Dana Gotong Royong Kemanusiaan Foundation
(Yayasan Dana Gotong Royong Kemanusiaan)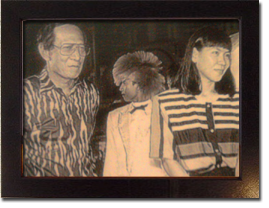 Initiated by Madam Tien Soeharto, Indonesia's First Lady, Yayasan Dana Gotong Royong Kemanusiaan was founded in 1986 to help the victims of natural disaster in Indonesia through the provision of food, medicine, clothing, seed and building materials. Ciputra is Second Chairman of the Foundation, which to December 1995, had distributed more than Rp28.4 billion to victims of more than 331 disasters, across 27 provinces of Indonesia.